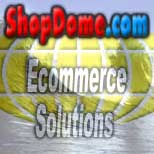 Leverage your sales with ShopDome
E-Commerce Solutions




$80,000,000,000 (EIGHTY BILLION DOLLARS - that's "Billion with a "B"). That's the value of global on-line revenues last year, based on data from Forrester Research of Cambridge, Massachusetts.
ShopDome.com represents a unique opportunity for your small or medium size business to participate in the Internet E-Commerce market. You can set up shop in a professional, turnkey, e-commerce-enabled, web-based storefront in the ShopDome Market Square and enjoy a high-profile presence on the Internet.
Your ShopDome storefront requires no technical expertise on your part. ShopDome's Web Designers and Marketing Specialists will provide you with a site carefully tailored to the specific requirements of your product or service mix. Your access to the on-line marketplace will provide cost-effective exposure for your goods and services, all day, every day, to customers from all over the world, with virtually no risk.
Can ShopDome help my business succeed on the Internet?
The list of products and services which can be sold on-line is unlimited. Companies in all fields of endeavor are using the Internet to sell their products and services. Established businesses in local markets, who wish to expand their sales and reach a broader market, will benefit from ShopDome's low-overhead on-line storefront.
If you have considered selling your product or service on the Internet, but were concerned about the technical aspects of web commerce and the expense of establishing and maintaining a standalone web presence, ShopDome has the answer. Cost-effective. Low risk.
If you want to benefit from additional, on-line sales and increase traffic at your physical place of business, ShopDome is the answer.
Become a part of the ShopDome Community as a ShopDome Tenant
In the same way that traditional shopping malls offer consumers a wide range of products and services in a single, convenient location, ShopDome offers our on-line Community Members a one-stop location to find the products, services, information and features they need. ShopDome provides our members with a secure, reputable, familiar, functional and attractive site, hosted on a system with a high-speed, fibre-optic connection to the Internet. This translates into higher traffic and increased exposure for your products or services.
Our Community Members enjoy:
Convenience
In addition to on-line shopping in the Market Square, news, weather, sports and traffic information, restaurants, professional services, recreation and leisure activities such as on-line gaming and horoscopes, charitable and non-profit organizations and much more, are available at ShopDome.
Security
ShopDome maintains the highest standard of privacy, confidentiality and security for our Community Members' personal and confidential information. Our Community Members can be sure that their personal information is safe when shopping on-line at ShopDome.
Selection
"Virtually Everything" can be found at ShopDome. This includes unique items not available in traditional stores. We want your products and services to be represented here at ShopDome to make our Community Members' shopping experience as rich and rewarding as possible.
Confidence
Detailed product information, contact information for each ShopDome Merchant and ShopDome's secure, on-line transaction processing software allow our Community Members to make use of the ShopDome site with confidence. Members are able to contact local ShopDome merchants directly, to provide or update information about a particular product or shipment, and have the confidence that a reputable business stands behind their purchases.
Our ShopDome Tenants enjoy:
Access
As a ShopDome Tenant your Internet storefront provides inexpensive access to the growing number of Internet shoppers. You have a direct pipeline to interested consumers for your marketing message, to local and global customers. You have access to sophisticated software solutions and technical assistance, to make the implementation of your Internet presence effortless and worry-free.
Flexibility
If you decide you require changes to your website, to add or change products or services, or to highlight special offers, ShopDome's proprietary database software makes it fast and easy to do. Our Web and Marketing professionals work with you to refine and focus your website to maximize your Internet traffic, and promote your retail location.
Security
ShopDome Tenants also benefit from our secure, redundant web-server installation and high-bandwidth fibre-optic connection to the web. Our Tenants enjoy inexpensive access to our automated, e-commerce and electronic shopping-basket technology, which would be difficult and expensive to implement and manage for a standalone website. ShopDome handles all e-commerce transactions processing for your site. ShopDome's synergistic approach and economies of scale allow us to make this technology available to small and mid-size retailers at reasonable prices. ShopDome also acts as your agent to verify the integrity of credit card and shipping information.
Advertising
In addition to your direct advertising message on your ShopDome website, the ShopDome Community is supported by advertising and Media Partnership programs with traditional media such as radio, television and print.
Promotions
In addition to the ShopDome Advantage Plus Program, which provides exclusive privileges to ShopDome Community Members through a shared partnership of ShopDome and our tenants, ShopDome is committed to a series of ongoing marketing initiatives designed to increase traffic to the site. Your enterprise can benefit by participating directly in some or all of these promotions, but you also benefit indirectly from the increase in awareness and traffic at ShopDome.
Good Will
ShopDome tenants are encouraged to support charitable organizations and the ShopDome Community, by partnering arrangements, promotions and fundraising events.
Technical Assistance
ShopDome Tenants have access to the best in technical assistance for web-related and marketing help. We can provide answers to your technical questions and advice on your website design, marketing plan, promotions, pricing and distribution system. When you succeed, we succeed.
ShopDome Tenants On-Line Services
ShopDome offers a range of services designed to get merchants on-line quickly and cost effectively. We have the expertise to build you a functional and attractive site, hosted on a system that is linked to a high-speed connection to the primary web backbone.
Our Web Designers can take your basic ideas and transform them into a fully-functional, e-commerce enabled Internet storefront in the ShopDome Community in a matter of days. Your website development includes your company home page, information on your business, integration of your company logo, development of your Internet Catalogue of products to be marketed on-line, contact information, and more. Our designers will help you develop graphics, write advertising copy and co-ordinate the page layout to enhance your on-line presence. Existing promotional materials can be incorporated in your website to maintain an overall company image.
Each website is unique, and is custom-designed to suit your particular requirements. You can choose from a wide variety of website features, including e-commerce, email, automated email response, basic sound, animation, RealAudio, RealVideo, Virtual Reality and more, to enhance the effectiveness of your on-line business.
The Internet is revolutionizing the world of commerce.
Please contact us at customerservice@shopdome.com to discover how your firm can participate in the on-line marketplace revolution.
Media Partner Program
To bring people to the ShopDome site, a number of media advertising initiatives are being undertaken, including traditional media advertising (radio, billboards, etc.) in regions where there is a concentration of ShopDome merchants. In addition, through our Media Partner Program, ShopDome is working with radio stations to bring their clients onto the ShopDome web site to support their traditional advertising with professionally produced, e-commerce enabled web sites.
Manufacturers/Distributors Partners Program
Distributors and manufacturers face many challenges when dealing with the incredible growth of the web.
As a manufacturer, should you sell direct to the end customers?
If so, how do you provide customer support?
How do you manage territorial issues for your existing distribution network?
How do you react if your competitors start selling products on-line directly?
ShopDome's Manufacturers/Distributors Partners Program provides the answers. For more information, contact us at customerservice@shopdome.com or simply submit your business's information below. To complete the form please fill in the required (*) boxes and choose submit to become a tenant on ShopDome.com.
ShopDome Merchant Form: